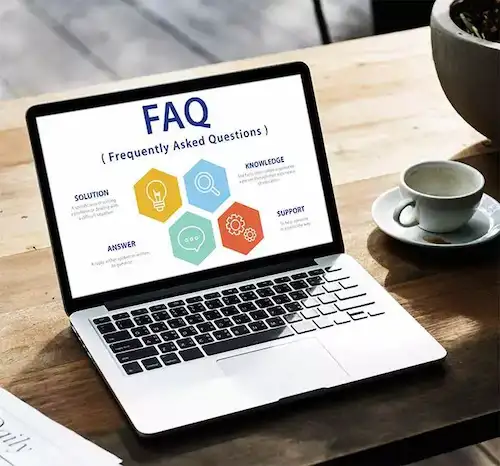 We like to do things in a different way, so this isn't your average FAQ page.
Here, we'll address the real concerns you've raised, hence, you'll be able to find answers to real questions.
In the event that you have any questions that we haven't already addressed, please ask them here.
Here is the FAQ list we created until now:
General Questions
Vassilis Theodoropoulos, the company's founder, took his first steps in programming back in the 90s.
Nonetheless, he decided to work in the web field in 2008, and so the Net 'n Design story starts.
Although our headquarters is in Patras, we serve businesses all over Greece, and we also have many international customers.
Because of the nature of our business, we can collaborate with any company anywhere in the world.
We work with a wide range of businesses (start-ups, major firms, nonprofit entities, B2B, B2C, etc.) in a variety of industries (technology, food, clothing & accessories, health & beauty, tourism, arts & crafts, and more).
We collaborate with clients who can truly benefit from our services. Our type is not the one that works with everyone for the sole purpose of making money.
Furthermore, we must be certain that we are a good fit for each other.
If you are living nearby Patras you can come over here and visit us. It will be our pleasure, and we'll treat you espresso and cookies.
If your base is far from here, we will prefer to do our meetings over Skype or via phone. Even in this case, if it's necessary for you, we are always happy to set up a face-to-face meeting, but depending on the distance, we will fix a consultation price for travel and accommodation.
In general, we rarely need to meet people face to face, since the technology allows us to accomplish so much in such a short period of time.
Web Design Questions
We are here for you, so don't be afraid. We will walk this path together!
You can see all the details here.
Our standard websites could take from 15-90 days and our E-commerce websites from 30-180 days to create, assuming we have all the information from you. This time varies between projects.
In general, the longer we are waiting for text and images from you, the longer it will take for your website to get ready.
Not if you have so many customers that you can hardly handle and don't want new ones, a website probably is not necessary.
However, if you want to grow your business, or even become a leader in your industry, you should have a website.
That's a great question which you should ask any web development firm you're thinking about hiring.
Many businesses will delegate work to freelancers or interns. In some firms, access may be denied to clients who want to speak directly with their web developers.
Our clients work directly with our small but mighty team. Vassilis, the founder, is also present from start to end.
Before we start, we generally have a phone or Skype call to discuss the project. After we begin, the majority of our communication will be via email.
This simplifies the process because we'll have all the information saved, so we can refer to it later if needed.
After we have completed the project, we will schedule your 1-hour training session.
All of our websites are built on the open-source content management system (CMS) named Joomla.
More information about Joomla can be found here.
No. We are working exclusively with Joomla for more than 10 years.
We can proudly say that we are experts in Joomla as a result of our decision to build only with this platform all these years, thus we can create extremely customized solutions.
Unfortunately, no. We only work with Joomla.
In the past, we tried to work with other platforms, but maturing we ended up using Joomla.
Joomla is an open-source stable and secure CMS that allows our clients to easily update their content, is search engine friendly, and has an awesome community backing it up.
I recently published an article explaining why we only use Joomla to build websites. Please take a look if you want to learn more.
Of course!
We always give our clients the ability to update their own websites.
You will be provided with all the necessary training and tools to make website changes.
Furthermore, we make use of an easy-to-use CMS called Joomla, which allows you to add, edit, and delete content without having to pay us to do it for you.
Yes, we can tailor a management package to suit your requirements. This can range from 2 to 15 hours per month.
We will discuss with you and together will create the package that best meets your needs.
You already have a website? That's fantastic!
This means that we can work on your new website while your old one is still running.
Once we are ready to go live, and you are satisfied with your new website, we will swap the old site for the new one.
The new website can be visible in as little as 10 minutes. This means that you won't notice any decrease in traffic.
You will be the sole owner of everything we build.
The majority of our clients remain with us for the entire lifespan of the website because of our incredible team.
However, if for any reason you decide to move your site to some other hosting provider and get another company to support it, we will gladly help in making the transfer as easy and painless as possible.
After all, the website is yours, and we want you to take it with you anywhere you go.
Your website will be fully responsive and look fantastic across all devices.
There is no additional fee for this. It is included as standard.
It is entirely dependent on the type of website you ask us to build.
However, it's something we will discuss during our first couple of discovery calls.
Lot depends on the service package we will agree.
In general, we may ask you to give us:
Images of you, your team or your workplace
Any kind of text content (text, PDFs, etc.)
Staff profiles, maybe
Any videos you may want to add to the website
Credentials to your existing website (if there is one)
If a website already exists, we could transfer some of the above to the new site.
Of course!
We can tailor a copywriting and editing package that suits you.
During the planning stages, we also create your sitemap and assist in structuring the foundation of your website.
First, we will ask you a number of questions in order for us to get to know your business.
Second, we will make some research for your market and after that, we will suggest a series of texts for your website.
Through our research, we will learn all we need to know to write awesome texts that encourage people to get in touch.
Of course, we will! There are many websites out there that provide photos for a small fee or for free.
We can also provide photographers and videographers to produce original photography and videos for your website.
SEO & Internet Marketing Questions
SEO is an abbreviation for "search engine optimization".
In layman's terms, it refers to the process of trying to improve your website so that it gets better visibility when people search on the search engines for products or services in your field.
The higher the visibility of your pages in the results page, the more likely you are to attract attention and new customers to your company.
It all depends on the package you select and our availability.
SEO is typically a long-term commitment that necessitates consistent and continuous effort.
That's why we have a very limited amount of SEO open slots each year.
However, we always follow the basic SEO practices that will get you started in the right direction.
Unfortunately, there is no clear answer to this question because search engine requirements change constantly.
There are websites that came out on the first page for their main keywords within a few days, but there are also websites that took months to gain a good ranking in search engines.
None can guarantee you that your website will ever appear on the first page of search engines for your main keywords, since some of your competitors may have large marketing budgets or have been there for years.
Our SEO plans start at €300+VAT per month and can vary widely. This is typically a starter plan for a small local business with moderate competition.
Other clients pay us more than €1.000+VAT per month for SEO services.
It really depends on the amount of work required and the level of competition in your industry.
If your business income largely depends on the visibility of your website, then it is necessary to promote it through social media, search engines, and email marketing.
We can suggest to you the best possible solution depending on the type of your business.
Of course, we can! After doing market and competition research, we will then plan the strategy we will follow.
Next, we will put together a package to promote your business.
The web design process does not include social media but, since we work to make your life easier, we can do it for you, knowing that social media is a must for businesses promotion.
In this case, we can put together a package that works best for you.
We will first look carefully at your needs and come up with the promotion strategy that we will follow.
After that, you will have to give us proper access to your account in order for us to take action.
Don't be afraid, we will not need your credentials!
Google Business Profile (formerly Google My Business) is essential for any business that wants to have a complete presence on the internet as well as a good ranking in Google results.
For this reason, we undertake the full registration of your business in GBP (and in Google Maps).
Web Hosting & Domain Name Questions
Web hosting is mandatory for your site to get public.
People will be unable to access your website unless you buy web hosting.
Hosting a simple website is typically about €120 per year.
Per your needs, it could cost much more. In general, the more website visitors you have, the higher your hosting costs will be.
If we build your website, we will usually manage the web hosting for you, so you will not have to do anything.
Usually, we give you as a gift the first year's hosting fee and will send you an invoice once a year after that.
You can also host the website somewhere else and manage it yourself. It is entirely up to you.
You are purchasing a website from us, so it is the very least we can do.
We'll buy it for you and pay for the first year as long as it's available for purchase. After this first period, we will send you an annual renewal invoice along with the hosting fees.
Just in case the domain name costs more than the average of €10-€20, we'd have to discuss it with you!
You will be the sole owner of the domain name.
We will register the domain on your behalf, with your name and address, and you will own it.
This means you have complete command of it.
Financial Questions
The cost of a website depends on a variety of factors, very much like the cost of a house.
Our website solutions typically start at €800 for simple websites and go up depending on your specific needs.
We don't use ready-made templates, unlike many other agencies.
Your website is created from the ground up, so you get a one-of-a-kind design that is tailored to your business. This means that the path we follow to create your website takes time and a lot of effort in planning and researching.
Choosing us to build your website should not be viewed solely as a business expense, but as an investment, since your website is a selling point that generates revenue for you.
We've also been asked this question!
It takes a long time to conduct research, plan the website UX/UI (user experience & interface), and finally to design and develop. We are generally less expensive than larger agencies because we are a small team that serves only a few clients per year.
Also, during our cooperation, you will not have to communicate with customer service representatives, but mainly you will contact Vassilis (the owner). This greatly reduces staff costs.
Each project starts with a deposit of 50% of the total amount.
On small websites, the remaining amount is paid when the project reaches 60% of the implementation.
On bigger websites or e-shops, the remaining amount is paid in two installments when the project reaches 40% and 80% of the implementation.
Unfortunately, no. Our experience has taught us that a project may take much longer than expected to complete.
We may be expecting information from you, which may delay the whole process. All those delays can sometimes last for months. 
That's why we follow the payment policy detailed in the above paragraph.